NEXT SPEAKER:
7:00pm Thursday May 16 2019
Saving Farmland – the Fight for Real Food and Habitat
with Nathalie Chambers
IMPORTANT: ** NEW ROOM **
David Turpin Bldg, Room A102 at University of Victoria – Parking lot #4 
Nathalie Chambers epitomizes this year's NPSG theme, stating: "If we are united and respectful, we can make a difference." In her book, Saving Farmland: the Fight for Real Food, Nathalie addresses the complex interdependence between pollinators and our native plants and food crops. Nathalie will speak to us on the role of native pollinators in our ecosystems.
Nathalie, a Native Pollinator Outreach educator, attributes her lifelong interest in nature and ecology to growing up on the slopes of Christmas Hill and picking blackberries under the giant Garry Oaks in the Lily St. field in Saanich.  Endorsed by Nancy Turner, Nathalie ran successfully for Saanich Council this fall, inspired by the works of former Saanich Councils, the Saanich Greenbelt Association and others whose actions have led to our current parks and protected areas.  Nathalie and her family live, farm and steward the 27 acre Madrona Farm, where they cultivate agro-ecologically grown vegetables 12 months a year, serving nearly 4000 customers.   In 2010, 3500 community members raised $2.7 million dollars to protect Madrona Farm forever, proving to Nathalie without a doubt that when people work together they can move mountains. She believes that a small local committee can change the world.
Meeting Agenda:
6:45-7:00 Arrive for meeting
7:00-7:30 Announcements, Upcoming Events, Questions about Native Plants
7:30-7:45 Refreshment Break + chatting
7:45-8:45 Presentation by Speaker (includes questions) 
8:45-9:00 Plant Raffle!
WHERE: UVic, David Turpin Building, Rm A102 **NEW ROOM!** 
Cost: Members: FREE  (Membership $25/yr)
Non-Members: drop-in by donation
Students: FREE
Notes: $3.00 for parking at UVic
Along with a friend, you are welcome to bring
– Any and all questions about native plants or native plant gardening for our experienced group of native plant gardeners
– Loonies/toonies for treats and tea at the refreshment break
– Box to carry home lots of native plants & seeds available by raffle $1 for 1 ticket or $2 for 3 tickets
– Travel mug or coffee mug for refreshments
– Potted and labelled native plants or items of interest for the raffle
– Some cookies or other shareable treats for 3 free draw tickets!
Upcoming Speakers
June: Spring Celebration + Visioning 2020 for NPSG, location TBD

Who We Are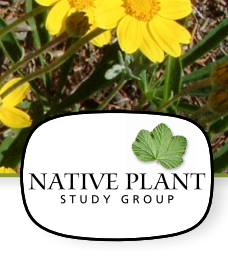 The Native Plant Study Group is dedicated to learning about the native plants of British Columbia as wild populations and in garden settings, while promoting their use and conservation. Our diverse membership ranges from biologists to hobby gardeners, from horticulturists to plant enthusiasts.
General meetings are held on the third Thursday of each month from September to May (except December) and feature a speaker, draw for native plants and discussion.
Many Thanks to our Sustaining Supporters!
Territorial Acknowledgement:
The Native Plant Study Group respectfully acknowledges that we meet on the unceded territory of the WSANEC and Lekwungen Peoples. We are a garden group with a strong interest in gardening with native plants for their aesthetic, intrinsic, and conservation values. We gratefully recognize the longstanding stewards of these plants and ecosystems, as well as the cultural significance to them. We encourage a safe and respectful space for everyone to learn along with us in the process of decolonization.