The Native Plant Study Group Presents:
 May 17, 2018 at 7:00pm – Carrina Maslovat, Biologist.
Carrina has been working to restore a former golf course on Salt Spring Island. She will explain the steps involved in a major wetland restoration project and show the transformation from abandoned fairways to habitat for rare frogs and bats.
Carrina Maslovat currently works as a botanist and ecologist in rare plant communities and spends much of her field time surveying for rare plants. She has written COSEWIC* status reports, best management practices and invasive species removal plans. Since 2014, she has been working to restore wetlands in degraded sites and re-establish native wetland plants. Between 1997 and 2003, she was co-owner of Woodland Native Plant Nursery where she grew a range of native species including several at-risk plants.
*COSEWIC, the Committee on the Status of Endangered Wildlife in Canada is an independent committee of wildlife experts and scientists whose "raison d'être is to identify species at risk" in Canada. It designates the conservation status of wild species.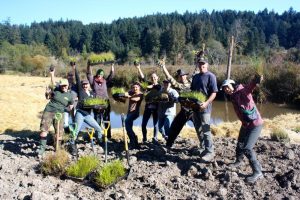 photo and more information at Saltspring Island Conservancy
WHERE: UVic, MacLaurin Bldg, Rm D-288 (NEW ROOM) in D-Wing
Cost: Members: FREE  (Membership $25/yr)
Non-Members: drop-in by donation
Students: FREE
Notes: $3.00 for parking at UVic
Along with a friend, you are welcome to bring
– Any and all questions about native plants or native plant gardening for our experienced group of native plant gardeners
– Loonies/toonies for treats and tea at the refreshment break
– Box to carry home lots of native plants & seeds available by raffle $1 for 1 ticket or $2 for 3 tickets
– Travel mug or coffee mug for refreshments
– Potted and labelled native plants or items of interest for the raffle
– Some cookies or other shareable treats for 3 free draw tickets!
---
SCHEDULE:
7:00-7:30 Meeting, Question Jar and Announcements
7:30-7:45 Refreshment Break + Chatting
7:45-8:45 Presentation by Speaker (includes questions)
8:45-9:00 Plant Raffle
Note: If you would like to attend the full meeting please arrive for 7:00, if you would like to attend the presentation only please arrive during the refreshment between 7:30 and 7:45.
---
Upcoming Talks/Workshops:
June – We have our planning meeting in June, and we will be hosting highlights from our members, so stay tuned.
July/August – no meetings, enjoy your summer!
September – TBD
---
Who We Are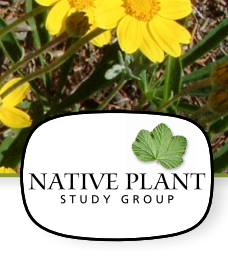 The Native Plant Study Group is dedicated to learning about the native plants of British Columbia as wild populations and in garden settings, while promoting their use and conservation. Our diverse membership ranges from biologists to hobby gardeners, from horticulturists to plant enthusiasts.
General meetings are held on the third Thursday of each month from September to May (except December) and feature a speaker, draw for native plants and discussion.
Many Thanks to our Sustaining Supporters!
Territorial Acknowledgement:
The Native Plant Study Group respectfully acknowledges that we meet on the unceded territory of the WSANEC and Lekwungen Peoples. We are a garden group with a strong interest in gardening with native plants for their aesthetic, intrinsic, and conservation values. We gratefully recognize the longstanding stewards of these plants and ecosystems, as well as the cultural significance to them. We encourage a safe and respectful space for everyone to learn along with us in the process of decolonization.