Thursday, November 15
Natural Processes for the Restoration of Drastically Disturbed Sites
with Dave Polster

Meeting at 7:00pm Speaker 7:45-8:30pm
 David Polster is a distinguished plant ecologist with over 40 years of experience in vegetation studies, ecological restoration and invasive species management. Dave has developed a wide variety of restoration techniques for mines, industrial developments and aquatic habitats. He served as the environmental supervisor for CP Rail's massive Roger's Pass Project. He also developed the bioengineering systems that have successfully revegetated a portion of the steep and unstable Point Grey cliffs at UBC above Wreck Beach. Dave was recently awarded the prestigious John Rieger Award from the Society for Ecological Restoration.
Ecological restoration is the process of assisting the recovery of an ecosystem that has been degraded, damaged or destroyed. This suggests that the best we can do is to help what will happen naturally, but how can we help? Dave will teach us how to use natural processes to restore drastically disturbed sites. He will also share his experience in dealing with excess deer browsing or herbivory.
WHERE: UVic, MacLaurin Bldg, Rm D-288 (NEW ROOM) in D-Wing
Cost: Members: FREE  (Membership $25/yr)
Non-Members: drop-in by donation
Students: FREE
Notes: $3.00 for parking at UVic
Along with a friend, you are welcome to bring
– Any and all questions about native plants or native plant gardening for our experienced group of native plant gardeners
– Loonies/toonies for treats and tea at the refreshment break
– Box to carry home lots of native plants & seeds available by raffle $1 for 1 ticket or $2 for 3 tickets
– Travel mug or coffee mug for refreshments
– Potted and labelled native plants or items of interest for the raffle
– Some cookies or other shareable treats for 3 free draw tickets!
---
SCHEDULE:
7:00-7:30 Meeting, Question Jar and Announcements
7:30-7:45 Refreshment Break + Chatting
7:45-8:45 Presentation by Speaker (includes questions)
8:45-9:00 Plant Raffle
Note: If you would like to attend the full meeting please arrive for 7:00, if you would like to attend the presentation only please arrive during the refreshment between 7:30 and 7:45.
Upcoming Speakers
December – no speaker, Christmas Party! Date TBD
January 17, 2019: Andy MacKinnon – Strange Native Plants of the Coastal Douglas Fir Forest 
February 21, 2019: Terry McIntosh – The Mosses of Camas Hill
Who We Are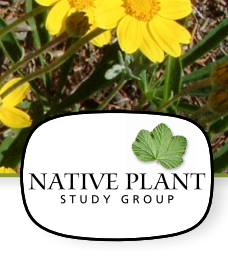 The Native Plant Study Group is dedicated to learning about the native plants of British Columbia as wild populations and in garden settings, while promoting their use and conservation. Our diverse membership ranges from biologists to hobby gardeners, from horticulturists to plant enthusiasts.
General meetings are held on the third Thursday of each month from September to May (except December) and feature a speaker, draw for native plants and discussion.
Many Thanks to our Sustaining Supporters!
Territorial Acknowledgement:
The Native Plant Study Group respectfully acknowledges that we meet on the unceded territory of the WSANEC and Lekwungen Peoples. We are a garden group with a strong interest in gardening with native plants for their aesthetic, intrinsic, and conservation values. We gratefully recognize the longstanding stewards of these plants and ecosystems, as well as the cultural significance to them. We encourage a safe and respectful space for everyone to learn along with us in the process of decolonization.