Thursday, September 20
Restoring Cadboro Bay's Urban Forest
With Everett Peterson
Meeting at 7:00pm Speaker 7:45-9pm
During 14 years of ecological restoration in the 6-acre urban forest surrounding Goward House on Arbutus Road, Victoria, several principles have proven helpful as choices were required and as priorities were chosen.  The central question has been whether ecological restoration is even possible, given the presence of an abnormally high density of Columbian black-tailed deer.  These herbivores are now the key architects of the future botanical structure of Cadboro Bay's urban forests.  Five key guiding principles are: 1. Respect local ecological conditions of project site; 2. Adapt to circumstances beyond your control; 3. Optimize use of natural regeneration processes; 4. Choose steps that have immediate visual impact; 5. Plan for repeat restorative steps.  These guidelines will be highlighted with images and diagrams from the Goward woodland.'
Everett Peterson is a forest ecologist and retired registered forest professional. His UBC graduate studies under the direction of Dr. Vladimir Krajina focused on biogeoclimatic classification of the coastal mountain hemlock zone in southwestern B.C.  In later years, as president of Western Ecological Services Ltd., he and Merle Peterson co-authored monographs on the ecology and management of Sitka spruce in British Columbia and aspen in the Prairie Provinces. On behalf of the Ministry of Forests, they also co-authored manager`s handbooks for aspen, black cottonwood, red alder, paper birch, and bigleaf maple. Everett and Merle have focused on volunteer ecological restoration of the Goward woodland since 2004.
WHERE: UVic, MacLaurin Bldg, Rm D-288 (NEW ROOM) in D-Wing
Cost: Members: FREE  (Membership $25/yr)
Non-Members: drop-in by donation
Students: FREE
Notes: $3.00 for parking at UVic
Along with a friend, you are welcome to bring
– Any and all questions about native plants or native plant gardening for our experienced group of native plant gardeners
– Loonies/toonies for treats and tea at the refreshment break
– Box to carry home lots of native plants & seeds available by raffle $1 for 1 ticket or $2 for 3 tickets
– Travel mug or coffee mug for refreshments
– Potted and labelled native plants or items of interest for the raffle
– Some cookies or other shareable treats for 3 free draw tickets!
---
SCHEDULE:
7:00-7:30 Meeting, Question Jar and Announcements
7:30-7:45 Refreshment Break + Chatting
7:45-8:45 Presentation by Speaker (includes questions)
8:45-9:00 Plant Raffle
Note: If you would like to attend the full meeting please arrive for 7:00, if you would like to attend the presentation only please arrive during the refreshment between 7:30 and 7:45.
---
Who We Are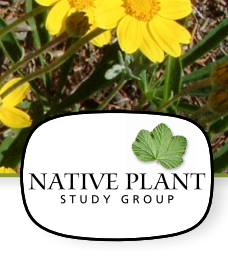 The Native Plant Study Group is dedicated to learning about the native plants of British Columbia as wild populations and in garden settings, while promoting their use and conservation. Our diverse membership ranges from biologists to hobby gardeners, from horticulturists to plant enthusiasts.
General meetings are held on the third Thursday of each month from September to May (except December) and feature a speaker, draw for native plants and discussion.
Many Thanks to our Sustaining Supporters!
Territorial Acknowledgement:
The Native Plant Study Group respectfully acknowledges that we meet on the unceded territory of the WSANEC and Lekwungen Peoples. We are a garden group with a strong interest in gardening with native plants for their aesthetic, intrinsic, and conservation values. We gratefully recognize the longstanding stewards of these plants and ecosystems, as well as the cultural significance to them. We encourage a safe and respectful space for everyone to learn along with us in the process of decolonization.