Thursday, October 18
Incoming! Fall migrants and winter resident birds and where to find them
Birds Among out Native Plants
by Ann Nightingale

Meeting at 7:00pm Speaker 7:45-8:30pm
Birds, butterflies and bees are regular visitors to our native plant gardens and parks.  This Thursday Ann Nightingale will help us make some new ecological connections.  Here's a challenge: how many native trees, shrubs and wildflowers we can identify during Ann's presentation?
We all notice the changes of the plants in the late summer and early fall, but not everyone notices the changes in bird life in the area as well.  Ann Nightingale of Rocky Point Bird Observatory will give a slide-illustrated presentation on the birds you can expect to see in the area over then coming months, and the habitats in which to find them.
Ann has been an active member of Vancouver Island's birding community for about twenty years, including coordinating Victoria's Christmas Bird count and organizing many nature-oriented events.  She is a past-president of the Victoria Natural History Society and Rocky Point Bird Observatory, and is a frequent presenter for community groups, seniors' facilities, and naturalist organizations. Recently, she was the recipient of both the Governor General's Caring Canadian Award and the American Birding Association's Betty Petersen Award for Community and Conservation. Occasionally, she still manages to find time for birding!
WHERE: UVic, MacLaurin Bldg, Rm D-288 (NEW ROOM) in D-Wing
Cost: Members: FREE  (Membership $25/yr)
Non-Members: drop-in by donation
Students: FREE
Notes: $3.00 for parking at UVic
Along with a friend, you are welcome to bring
– Any and all questions about native plants or native plant gardening for our experienced group of native plant gardeners
– Loonies/toonies for treats and tea at the refreshment break
– Box to carry home lots of native plants & seeds available by raffle $1 for 1 ticket or $2 for 3 tickets
– Travel mug or coffee mug for refreshments
– Potted and labelled native plants or items of interest for the raffle
– Some cookies or other shareable treats for 3 free draw tickets!
---
SCHEDULE:
7:00-7:30 Meeting, Question Jar and Announcements
7:30-7:45 Refreshment Break + Chatting
7:45-8:45 Presentation by Speaker (includes questions)
8:45-9:00 Plant Raffle
Note: If you would like to attend the full meeting please arrive for 7:00, if you would like to attend the presentation only please arrive during the refreshment between 7:30 and 7:45.
---
Who We Are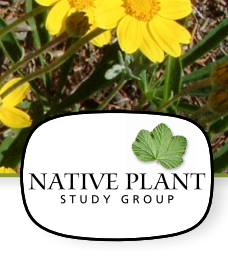 The Native Plant Study Group is dedicated to learning about the native plants of British Columbia as wild populations and in garden settings, while promoting their use and conservation. Our diverse membership ranges from biologists to hobby gardeners, from horticulturists to plant enthusiasts.
General meetings are held on the third Thursday of each month from September to May (except December) and feature a speaker, draw for native plants and discussion.
Many Thanks to our Sustaining Supporters!
Territorial Acknowledgement:
The Native Plant Study Group respectfully acknowledges that we meet on the unceded territory of the WSANEC and Lekwungen Peoples. We are a garden group with a strong interest in gardening with native plants for their aesthetic, intrinsic, and conservation values. We gratefully recognize the longstanding stewards of these plants and ecosystems, as well as the cultural significance to them. We encourage a safe and respectful space for everyone to learn along with us in the process of decolonization.